PMIC is working with its partners to develop products for the education sector, particularly low-cost quality education. Considering the enrollment numbers for girls as compared to boys, it is important to allocate separate funding windows for establishing more girl schools and colleges.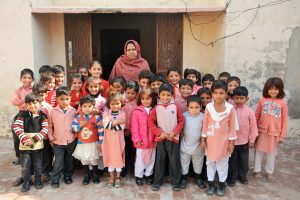 Hilda Yaqoob a client of CEIP, one of the PMIC's borrower is recognized and applauded by her community for her undeterred services towards promoting girl's education. In 2012, Hilda opened an English medium school called 'Fatima Public Girls School' for marginalized children in her neighborhood with the help of CEIP.  She charges a nominal fee of PKR. 500 to each student from grade 1-10 and gives a further concession of PKR 200 to orphans.
According to Hilda: "75% of the student population in her school are female which are gathered by educating the rural families in her area about the significance of girl-child education. Loan from CEIP has greatly helped me to sustain my school by improving the infrastructure".